---
---
---
Quick, practical and fun. The way music theory should be.
---
A practical, entertaining, and straightforward course in how music works and how it is written down. If you have struggled to get your head around scales and chord progressions, then this course is for you. Whether you are a guitarist, electronic musician, songwriter or just love music, Learn Music Theory will give you techniques to apply to your music straight away.
---
---
Over 12 hours of video tutorials.
Check your progress with short quizzes throughout the course.
Comprehensive course notes and illustrations supporting the video tutorials.
Lifelong access and 30-day money back guarantee.
---
The course is divided into two parts. Part one begins with the fundamentals, looking at pitch, octaves, scales. and keys. Then you will learn about chords and harmony, before moving on to rhythm and music notation. The second part of the course takes you into deeper ideas, such as extended chords and progressions. It is these ideas that can show you how music theory can make you a better musician and songwriter.

By the end you will also understand extended chromatic chords, how a full orchestral score works, and how to create a lead sheet.
First fundamentals through to advanced concepts – it is a complete music theory journey.
Tutorials to support every level of knowledge and curiosity – choose your own path.
Over 9 hours of video tutorials explaining every aspect of music theory in Guy's distinctive and uniquely accessible style.
Music theory for guitarists.
---
I love Guy's approach to teaching... it doesn't feel like he's talking down to you, it feels like you're in the studio with him.
Already I feel like the idea of music theory as a language is more tangible for me as a non-musician.
Josh McCausland
Learn Music Theory Student Student
Video tutorials + Quizzes + Course Notes - all delivered in our innovative online Course Reader which is like a video player, eBook reader and interactive learning tool all rolled into one. Access your materials anywhere on laptop, tablet or phone.

The Core Video Tutorials explain the essential concepts and ideas in a simple and straightforward manner.

Didn't quite get it first time? Don't worry, many of the main ideas are supported by Further Explanation Videos, just like when you ask your teacher to explain something again.

If you get it first time you can move on, or choose one of the Going Deeper tutorials which look at more complicated and advanced ideas.

You can then check your understanding with a Short Quiz.
This is a living, breathing course that will grow and expand in response to your questions and feedback. If you do not understand something, or think we've missed something out, send us a message using one of the Feedback Boxes. We cannot promise to answer every individual query but we will do our best. We will use your feedback to add more tutorials to give you the answers you need.

The Course Notes give you a detailed, written explanation of the ideas in the video tutorials supported with illustrations and diagrams. This means it is easier to look back on and allows us to add lots of additional details. The Course Notes alone would make a fantastic music theory book. Alongside the video tutorials and quizzes, this truly unique course will give you a structured and accessible approach to learning music theory.
Part One: The Fundamentals
1. Pitch, Octaves and Naming notes
Starting with the fundamentals, we look at how notes are identified and organised.
2. Scales and Keys
An introduction to structured harmony, looking at basic scales and how keys relate to one another.
3. The Basis of Chords and Harmony
How to label the aural relationship between two notes, and learn to build chords using intervals of thirds.
4. Rhythm
Identify how notes are subdivided rhythmically within a bar of four beats.
5. How Music is Written Down
Music notation - how we notate pitch and rhythm, alongside performance directions such as structure and tempo.
Part Two: Music Theory in Action
6. Applying Music Theory to Your Music
Putting all this in practice, we discuss how your music can benefit from learning music theory and how this helps your improvisational skills.
7. More Advanced Harmony and Chords
Extended and suspended chords, jazz chord charts, key changes, and more. These are more complex harmonic techniques you can use to add additional interest to your music.
8. The Wonderful World of Modes
Scales that do not fit into the traditional major and minor format. What they are, and how they work. Plus, a guide to playing these on guitar.
9. Introduction to the Orchestra
A look at how orchestral instruments are used, and specific notation information you may need to know before writing for them.
10. Miscellaneous
Extra information and terminology that may be of interest, such as classical structures, forms, and musical devices.
I really like the way they teach, I like the way they show you how to do it, and they follow that up with the practical uses.
---
SoundsAndGear
Great content. The information is presented in a clear and engaging manner.
---
Bob Gunnerfeldt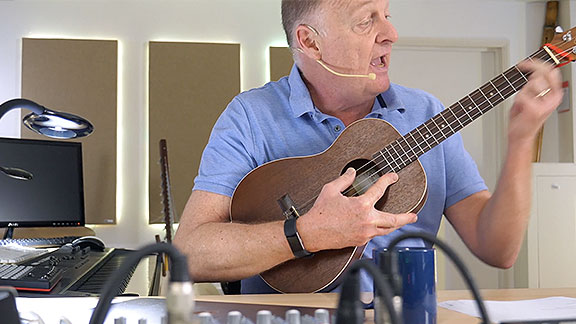 Over 12 hours of video tutorials.
Check your progress with short quizzes throughout the course.
Comprehensive course notes and illustrations supporting the video tutorials.
Lifelong access and 30-day money back guarantee.